Buy the Book
A Walk to Wisdom by Trog Trogdon
Purchase a copy of A Walk to Wisdom today and start the 31-Day Proverbs Challenge to discover the blessing of wisdom for your life.
---
Purchase A Walk to Wisdom
Purchase a copy of A Walk to Wisdom for $9.95 (plus $4 shipping/handling).
Get a copy autographed by the author
Volume Pricing
Or buy multiple copies at a special discount. See chart below.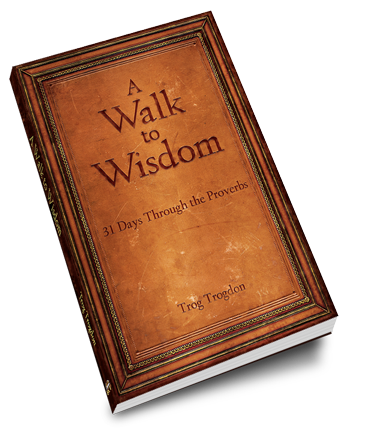 View Volume Discount Prices
---
Ministries Supported5>
100% of the profits from the sales of this book go to Kingdom causes. Bonton Farm-Works and H.I.S. BridgeBuilders benevolence fund have been chosen as the first two recipients of the funds generated from this resource.
A Walk to Wisdom - 31 Days Through The Proverbs
Religion / Christian Life / Devotional
$9.95 – Softback / $11.95 - Autographed Copies (Softback)
130 pages, 5 X 8
$4.00 shipping; $2.00 for each additional book in the same order